Albertsons Market - It All Started In 1939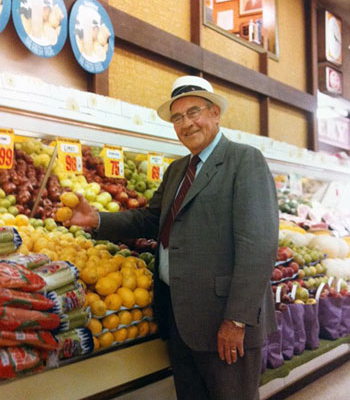 Joe Albertson
Joe Albertson opened his first grocery store in Boise, Idaho, in 1939, he called it "Idaho's largest and finest food store." Joe was innovative. He had one of the first magazine racks in the country. He offered his customers hot, buttered popcorn, roasted nuts, and double-dipped home-made ice cream cones, plus one of the first scratch bakeries. From the beginning, his philosophy was to "Give the customer the merchandise they want, at a price they can afford, complete with lots of tender, loving care."
In 1929, Joe Albertson was a college student who had spent two years studying business when the Great Depression sent the country into a tailspin. Joe decided that he would leave school and enter the grocery business, holding onto the philosophy that in good times or in bad, people had to eat, so he figured a grocery store was a good business.
Joe's idea about what made for a good grocery store quickly spread, and the following year he was able to open two more stores in neighboring Nampa and Caldwell, Idaho. It was only the beginning of a chain that, sixty years later, would have over 1,000 Albertsons stores, bringing Joe's visionary idea for a grocery store to millions of customers throughout the country.
In the years that Albertsons has operated stores, we have operated under Mr. Albertsons same philosophy: to give customers the products they want, at a fair price, with lots of care along the way. Our goal has never been to be the biggest, just the best. It's that simple. In 2013 United Supermarkets L.L.C. was bought by Albertsons L.L.C. and now operates as a separate, decentralized division of the Albertsons Company. The United division operates 13 Albertsons Market stores in west Texas and eastern New Mexico.
United Supermarkets, LLC, is a Texas-based, retail grocery chain with stores in 49 markets across north and West Texas and New Mexico. United is a self-distributing company headquartered in Lubbock with distribution centers in Lubbock and Roanoke and operates 92 stores under five distinct formats: United Supermarkets, Market Street, Amigos, United Express and Albertsons Market.
Read more about United's history here.