Our dietitians are at your service to help you make healthy choices and still have time for the other important things in life. Check out some of our featured recipes below.
---
Asian Pork & Vegetable Stir Fry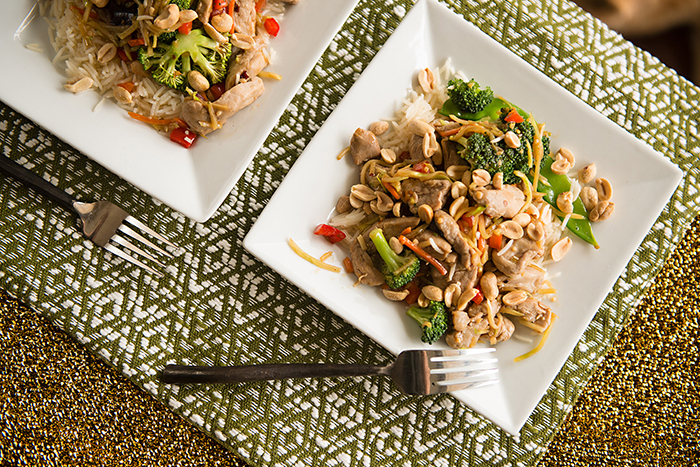 Ingredients:
1 lb boneless pork chops, cut 1 inch thick

4 cups assorted fresh vegetables (sugar snap peas, broccoli florets, bell pepper, carrot strips)

1 bell pepper, chopped

1 clove garlic, minced

½ cup prepared stir-fry sauce

1/8 to ¼ teaspoon crushed red pepper

2 cups hot cooked rice

2 tablespoons unsalted dry-roasted peanuts (optional)
Instructions
Cut pork steak lengthwise in half, then crosswise into ¼-inch thick strips

Heat a large pan over medium-high heat until hot. Add pork and garlic; stir-fry 8-10 minutes or until pork is no longer pink. If pan is not large enough, cook pork in batches.

Combine vegetables and 3 tablespoons water in large nonstick skillet. Cover and cook over medium-high heat 4 minutes or until crisp-tender.

Add stir-fry sauce and crushed red pepper; heat through. Serve over rice. Sprinkle with peanuts if desired.

Stir Fry recipe adapted from beefitswhatsfordinner.com
---
Hamburger Minestrone Soup
Prep time 5 mins
Cook time 25 mins
Total time 30 mins
Serves: 6 servings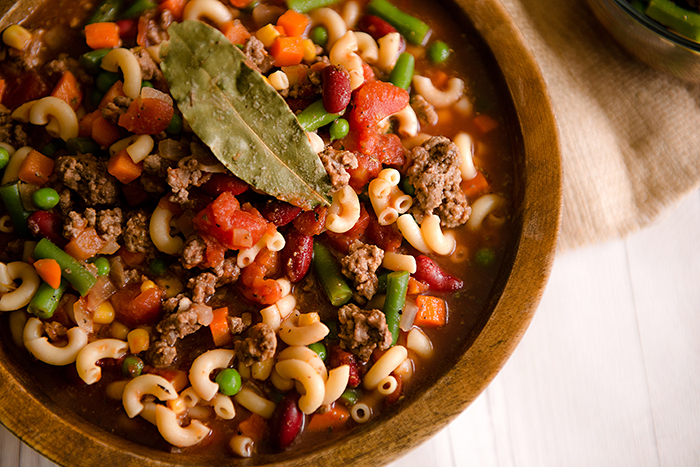 Ingredients
1 cup uncooked small elbow macaroni (or other small shell pasta)
1 pound 93% lean ground beef
1 cup chopped yellow onion
1 (32-ounce) carton beef broth, low sodium
1 (16-ounce) Signature Kitchen frozen mixed vegetables
1 (16-ounce) Signature Kitchen canned dark red kidney beans, drained and rinsed
1 (14.5-ounce) Signature Kitchen can diced tomatoes, undrained
1 (6-ounce) can tomato paste
2-1/2 teaspoons Italian seasoning
1 bay leaf
Salt and pepper, to taste
Instructions
1) Cook pasta according to package directions. While pasta is cooking, cook beef and onions in a dutch oven or large saucepan over medium-high heat, stirring constantly, until beef is browned and no longer pink. Crumble beef while cooking with a wooden spoon or spatula. Drain off grease in a colander and return to dutch oven or saucepan.
2) Add remaining ingredients and stir well to combine. Bring to a boil. Reduce heat to maintain a gentle simmer and simmer uncovered for 15 minutes, or until vegetables are tender.
3) Drain cooked pasta and add to soup. Stir well to combine and cook until heated through. Discard bay leaf before serving.
Recipe inspired by Taste of Home
---
Slow Cooker Southwestern Corn & Potato Chowder
Serves: 8-10 bowls of soup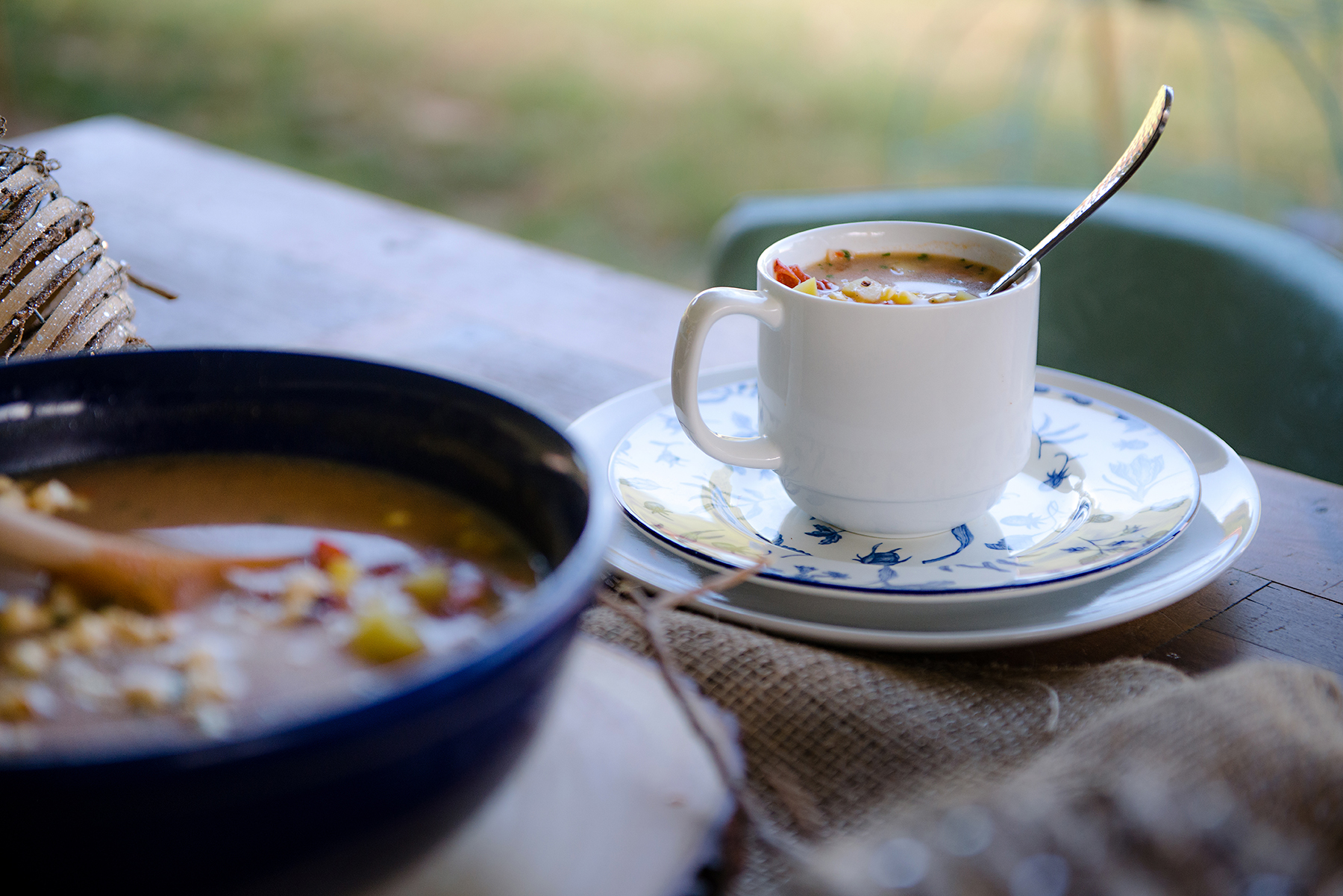 Ingredients
3 ears of fresh corn, kernels removed from the cob
2 cups of Yukon potatoes, diced
1 red pepper, diced
1 onion, diced
1 large chipotle pepper, minced
Juice from 1 lime
¼ cup of fresh cilantro
1 ½ teaspoons of ground cumin
3 strips of crispy bacon, crumbled
14 oz can of fire roasted tomatoes
4 cups of low sodium vegetable stock
salt and pepper
1 can of coconut milk
diced avocado (optional)
Directions
1) Add fresh corn, potato, red pepper, onion, chipotle pepper, lime juice, fresh cilantro, ground cumin, crispy bacon, fire roasted tomatoes, vegetable stock, and salt and pepper to a crock pot
2) Stir to mix everything
3) Cook on high for 4 hours
4) Add in coconut milk to crock pot and cook on high for an additional 30 minutes to an hour
5) Serve with diced avocado and devour!
---
Bagel Quiche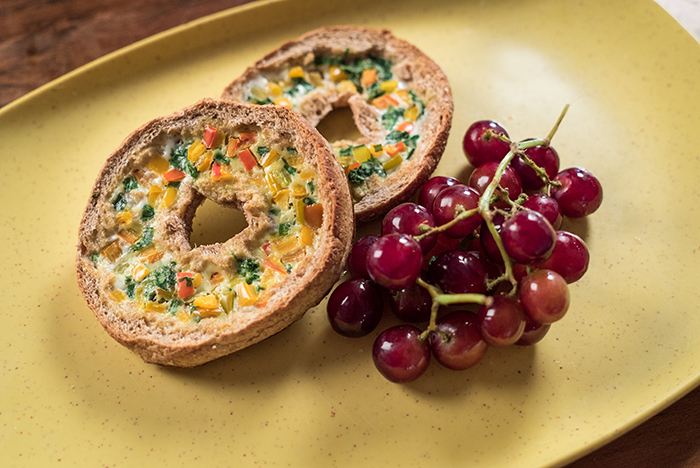 Ingredients:
1 bagel (any flavor that would go well w/ egg)
2 to 3 large eggs
desired fillings (such as cheese and chopped vegetables)
Cooking spray
Directions
1) Preheat oven to 375 degrees F. Spray a piece of foil with nonstick spray.
2) Slice the very bottom of the bagel off nice and evenly. Set aside to eat, turn into breadcrumbs.
3) Carefully hollow out the bread inside of the cut bagel using your fingers to pull the bread away from the crust of the bagel (turn into breadcrumbs). Set the bagel, cut-side-up on the foil.
4) Whisk 2 eggs and pour them into the hollowed out bagel. Place desired filling choices into the egg. If the egg and filling does not fill the bagel completely, you can add another whisked egg on top.
5) Wrap the bagel up the sides with the foil, but keep the top open to the heat of the oven. Bake 20 to 30 minutes, or until the egg is completely set. Timing will depend on how many eggs used and how large the bagel is. Serve immediately.
---
Peanut Butter Banana Parfaits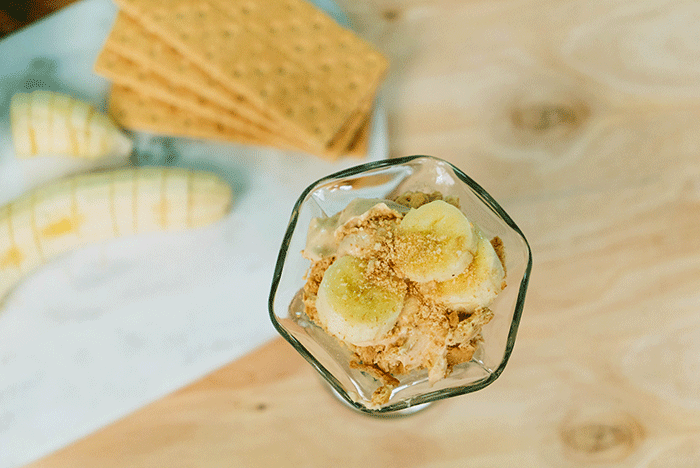 Ingredients:
1½ cups vanilla yogurt
½ cup peanut butter
⅛ cup honey
2 bananas, peeled and sliced
¾ cup graham cracker crumbs or 4 graham crackers
Directions
1) Combine yogurt, peanut butter and honey in a bowl and beat until smooth
2) In a parfait glass, layer the yogurt mixture, the sliced banana, and the crushed graham crackers
3) Enjoy!
Adapted from suburbia-unwrapped.com
---
3-Ingredient BBQ Stuffed Sweet Potatoes
Yield: Makes 4 halves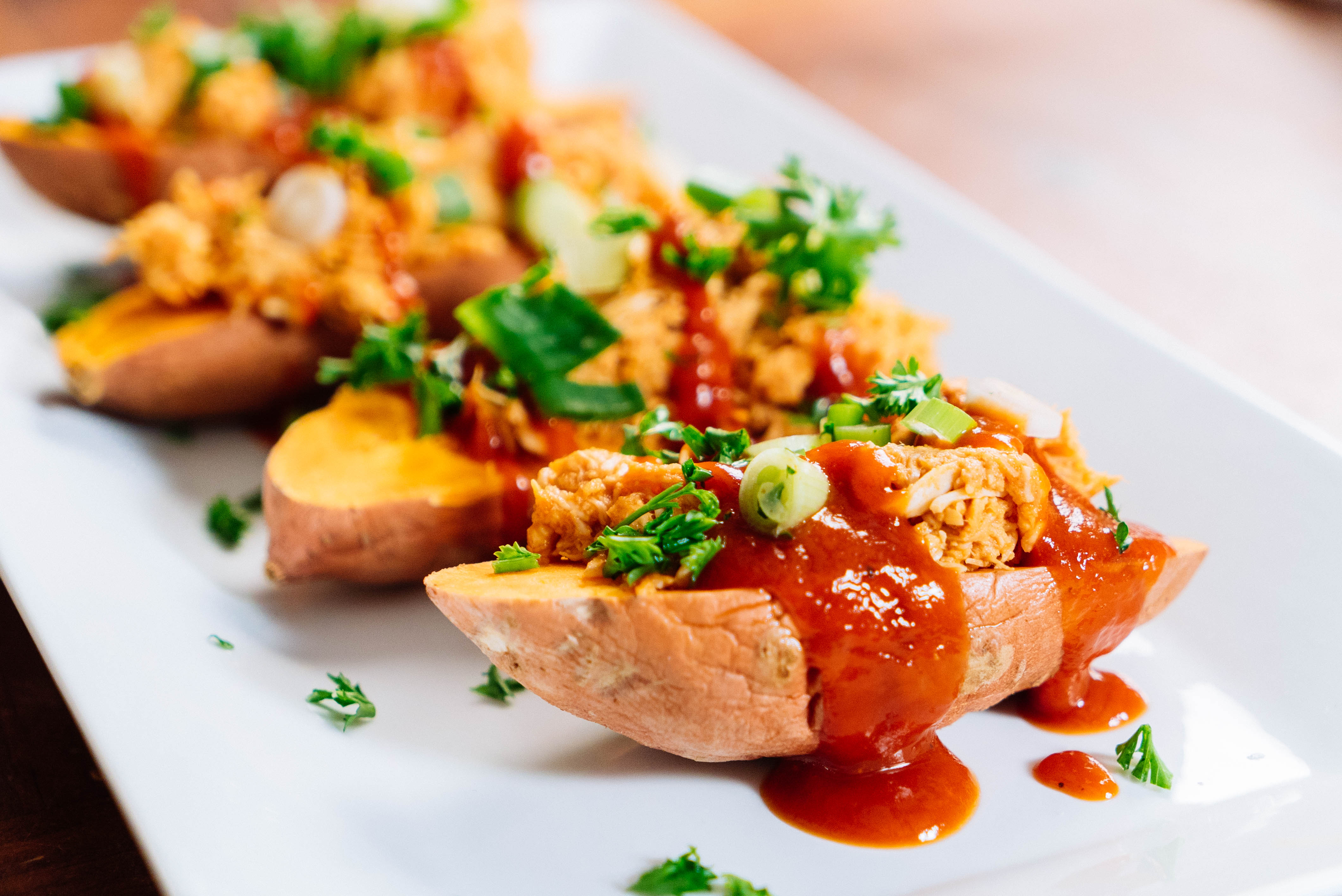 Ingredients:
2 medium sweet potatoes, halved
1 lb. boneless skinless chicken breasts, cooked and shredded (or you can purchase a rotisserie chicken)
1/3 cup BBQ sauce, your favorite (or less/more, to your taste) We used Stubb's original BBQ sauce.
For garnish:
Chopped parsley or sliced green onions, optional
Directions
1) Preheat oven to 425 degrees F. Lay sweet potatoes cut side up on a large baking sheet. Roast until tender, about 35 minutes, depending on size of your potatoes. Or to save time, pop the sweet potatoes in the oven for 6 minutes.
2) In a saucepan set to medium-low, stir together chicken and BBQ sauce. Heat until warm, 5-10 minutes.
3) Top each potato with scoopfuls of chicken. Spoon over additional BBQ sauce and sprinkle with chopped parsley or sliced green onions, if desired. Enjoy!
Recipe adapted from www.TheComfortofCooking.com