Gift Cards are the Perfect Gift for Anyone and Everyone!
2X Points on Gift Cards
For a limited time, when you use your Rewards account to buy gift cards in our stores, you will receive 2x Rewards points on your gift card purchase. What a great time to stock up on Rewards points for FREE gas and groceries!
Some exclusions apply. Please see disclaimer below for details.*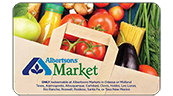 Albertsons Market Gift Cards
Enjoy the convenience and variety of an Albertsons Market gift card! Choose your gift card, load it with $5 to $500 and give the gift of deliciousness. Our online gift card ordering page is currently under construction. To order your Albertsons Market gift card, please call 806-791-0220.
IMPORTANT NOTE: Albertsons Market is part of The United Family, a subsidiary of Albertsons Companies. Albertsons Market stores are operated in Texas and most of New Mexico.If you wish to order gift cards for Albertsons stores in any other part of the country, please place your order via phone at 1-877-723-3929 (extension 4, option 1, option 2) or download and fill out this order form to send via email to giftcard.orders@albertsons.com. Service hours are: Monday-Friday 6 a.m.-6 p.m., Saturday 8 a.m.-4:30 p.m./Arizona time.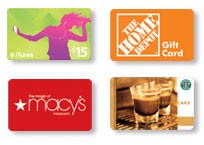 Gift Card Mall
We make it easy to find a gift for anyone on your list! Simply browse our wide range of options. The perfect gift is at your fingertips with our e-Gift Cards and Gift Card Mall.
---
Click Here to view our Gift Card Disclaimer.

*2x or 4x GIFT CARD REWARDS POINTS DISCLAIMER: Rewards account required to earn points. EXCLUDES: Albertsons Market, Amigos, Market Street, United Supermarkets, United Express gift cards, ALL VARIABLE LOAD FINANCIAL CARDS (American Express, Mastercard, Visa) and ALL PREPAID RELOADABLE DEBIT CARDS (Amex Serve, Green Dot, Netpsend, Paypower, ReloadIT, TMobile GPR, Univision)